Villa Bersama- the Service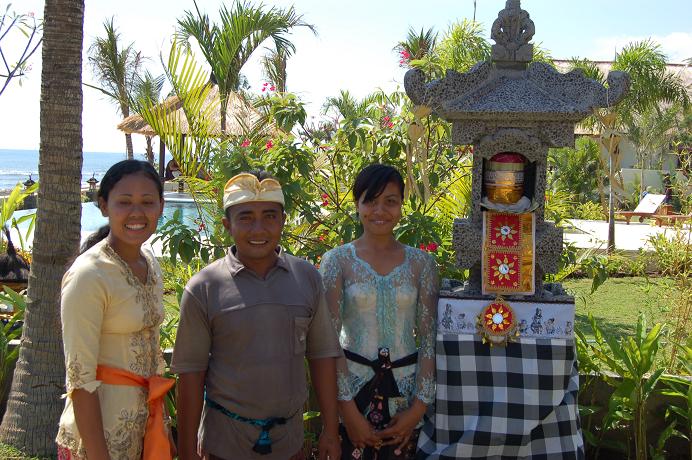 Staff
There will be staff at the premises day and night. During the day our housekeepers Ria and Komang clean the villa; They will wash and iron the laundry that you put in the laundry basket. They love to cook for our guests; an extensive breakfast, lunch or diner for 8.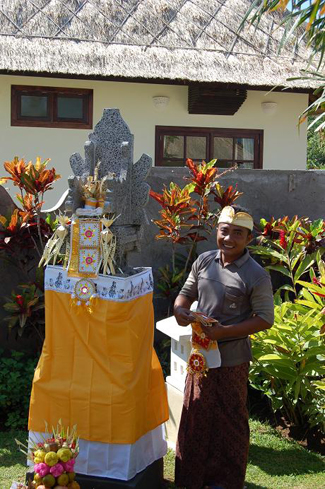 You can choose from our villa menu that you can find in the information brochure. You choose what you would like to eat, you confer with Ria and Komang about the shopping and Ria or Komang prepares it for you. This is a completely non-committal service. You can go for a bite in Lovina or if you rather cook yourself, be our guest!
The villa is completely furnished. Bed linnen and towels are clean upon arrival and will be changed on a regular basis. Ria makes sure the villa looks spick and span all the time! The gardener looks after the tropical garden and keeps the pool clean. The security keeps his weather-eye open (6.00pm till 6.00am).
Helpdesk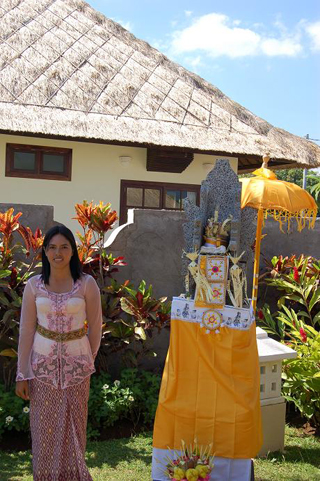 Anik works for the helpdesk. She will welcome you and will try to answer any questions you might have. During your stay you can always ask her for advice. Her English is good. She can assist you with the booking of trips or activities.
The Villa
In the villa you will find an information pack. This contains important phone numbers (e.g. Helpdesk, GP), maps of the environment, excursion brochures etc. It will also contain the villa menu and a useful little dictionary.
The villa has a little library, a choice of about 20 books, for young and old and as well Dutch as English. Also avaible are a few board games (Settlers of Catan, Scrabble, Stratego and a deck of cards). The living room is equiped with a television and an audiosystem with dvd/cd player.
Internet
Villa Bersama has a wireless internet connection. At a surcharge you can make use of the internet but only if you bring along a laptop with a wireless internet card. You can buy a voucher from the helpdesk. See below for an overview of the costs (subject to change):
10 hours, 100.000 rupiah (valid for 1 week)
50 hours, 300.000 rupiah (valid for 2 weeks)
100 hours, 500.000 rupiah (valid for 1 month)
Unlimited, 800.000 rupiah (valid for 1 month)
Airport Transfer
We can arrange transport from and to the airport if required. You'll arrive at Denpasar airport. The driver will wait for you in the arrival hall, holding a sign with your name on it. In his van he'll take you to Lovina, in the north of Bali. This will take approximately 2.5 hours (depending on traffic). The cost for this service is 500.000 rph, based on a maximum of 5 persons. For 6 to 8 persons we will have to use two drivers, which means twice this price. For your trip back to the airport you can agree a time with the driver yourself.